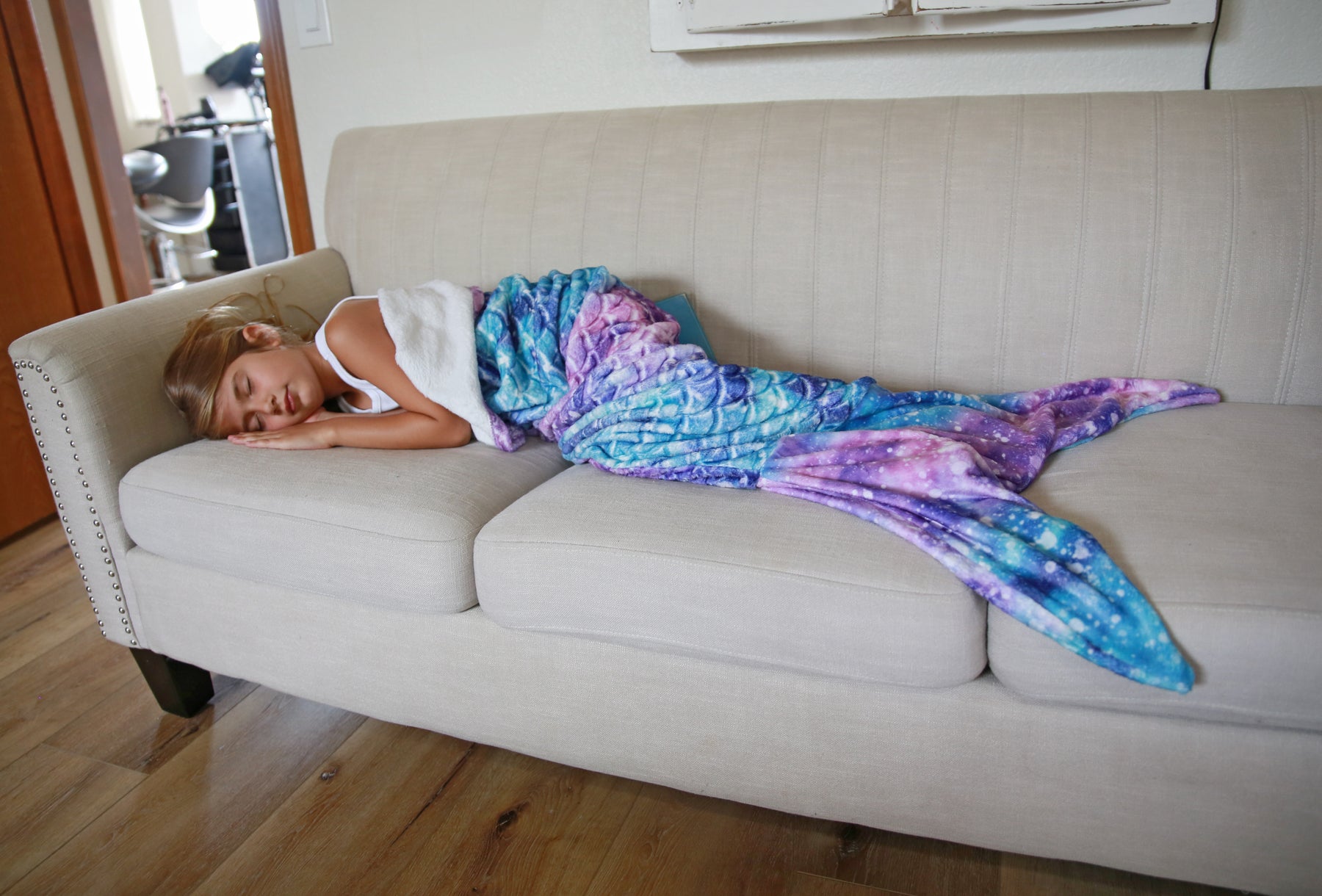 Tips For Help Your Child Sleep In The Car
Every now and then, we make plans to go out on a road trip with family and visit our favorite group of people. However, many parents find it a real challenge to bring kids in the car and head off. The kids need fun and entertainment all the time they are awake. So, it becomes tiresome and troublesome for the parents to manage the chaos to keep going.
It is not always possible to use other modes of transportation to travel from one place to another, which is why you end up going on a road trip by car. And parents who have small, little kids can only hope that everything goes well on the journey. Nonetheless, being parents of smaller children, you must also plan for something worse.
To manage children, the best thing that can happen is they fall asleep in the car and play in their dreamland. Sadly, not every child sleeps inside a moving car. Some children might fall asleep just like that, while others have a tough time. If your kid belongs to the latter type, we have a few tips that will help you make your kids sleep on a car ride.
Tip #1. Get Some Soft Toys
The primary principle of parenting is never to forget soft toys for your child. It will be an amateur mistake to commit, which you may probably not do twice. It can be their favorite soft toy, a cozy blanket, or a colorful empty jar; make sure you carry them along with you. Children may become rebellious and not sleep without their favorite product.We suggest you bring it solely to distract them. Toys, blankets, and colorful objects they are fond of help engage them in activity and sleep without any stubbornness. Nonetheless, parents need to look after the brands and product quality before buying anything for the child.
When talking about the brands and product quality, how can we not mention the Catalonia store! This amazing brand offers a super cute Catalonia Cozy hoodie blanket and Kids Sleeping Bag. One of the best things about this brand that makes it stand out from the lot is its continuous attempt to manufacture and design products centering on the customers.Hence, it designs products with fabrics that are ultra-soft and oh-so-comfortable! However, if you do not feel satisfied with the product quality, make the most of 30 days' guaranteed exchange and return policy.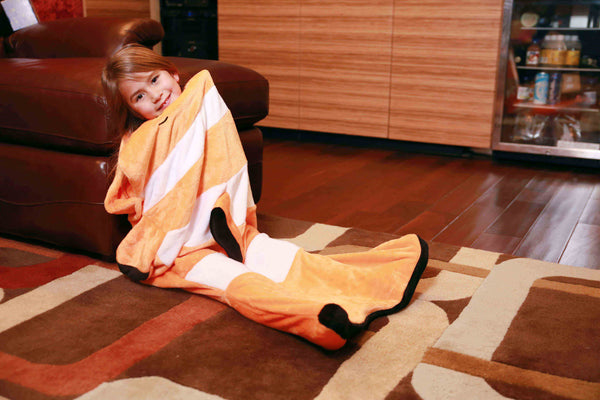 Nonetheless, the pure super-micro plush polyester material is so soft that it won't do any harm to the delicate skin of your adorable kids.We highly recommend you get Kids Catalonia Sleeping Bag as its cartoon design will work as a playmate for your kid. Besides, it is also good to use anywhere while traveling overnight, in the car and on camping trips, on the couch and bed, and in many more places.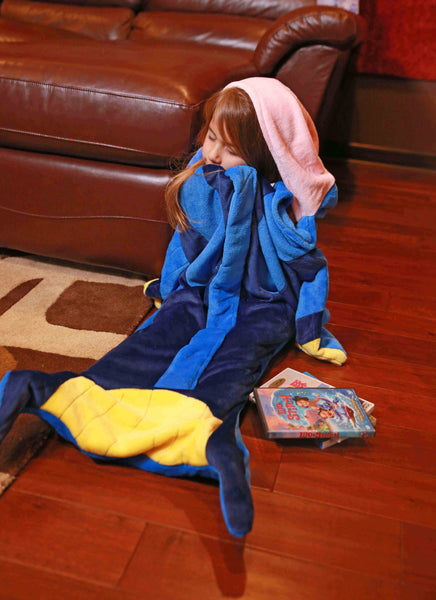 Tip #2. Engage Them In Active Play And Tired Them Before The Car Ride
Before you begin the long car journey, let your child engage in the active play of their choice to get tired. Allow them to do some physical activity like running on the lawn or backyard, playing hide and seek at home, dancing, and enough time to play freely.
Besides, you can also offer them some quiet activities or screen time while you pack and load the car. But, you must know that giving them time to recharge may prove to be unproductive to enjoy a relaxed drive.
So, the best possible schedule is to play actively in the morning and right after lunch, beginning the journey when most children take a long nap. Take advantage of your kid's usual nap routine, which may include holding toys, a juice in a sippy cup, and a Kids blanket for cuddling.
Tip #3. Read or Narrate Them a Story on the Ride
Just like their bedtime storytelling routine, narrate or read a story to them. Storytime is a great way to relax the mind of the little ones and make them go zzz'z.
However, what could be more annoying than a blanket falling off while reading or listening to a story? This is where the Catalonia store wins the game by taking the smart route and solving the problem.
When you bring an eye-catching Catalonia Mermaid Tail Blanket for kids, they will not face the same problem. This Little Mermaid Blanket is loose on the upper portion of the body, making it extremely easy to open. Plus, it's like a tail blanket, and the tail appears at the bottom just like a mermaid. On top of its cute design, the use of super-soft flannel Fluffy Mermaid Tail Blanket made with 250 gsm of polyester offers a much softer touch and warmth to your kids.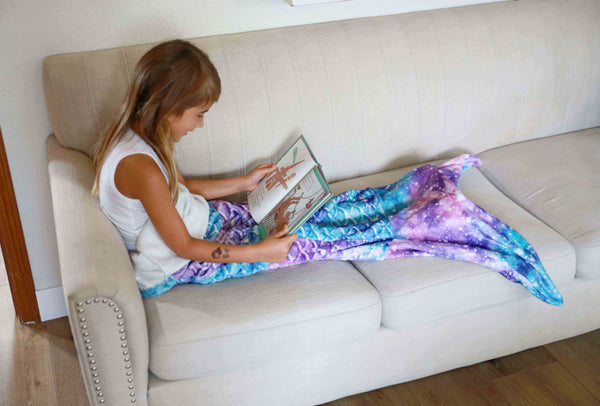 In addition, this Mermaid Tail Blanket strengthens the imagination of kids as they go wild dreaming of cuddling inside the blanket.
Tips #4. Make A Playlist Of Soothing Music To Play
When you see toys are not helping out, you know it's time to play some music. If you follow a bedtime routine for your child dedicated to soothing music, it can also help keep your baby calm on a car trip. The pairing of road vibration with soothing music is a great way to make your kids sleep early.
Music like Sesame Street, Raffi, and other varieties of kid-friendly music collections are good enough to travel on a long car journey. Plus, keeping a mix of this and that can save you. You can change the music when one song fails to keep them calm anymore. Furthermore, it would be great if your child had a recent favorite playlist. Just turn them on and let your child fall asleep.
Tip #5. Avoid Sitting With Your Kids
Mostly when parents go out together on a car ride with their munchkins, they use the divide and dominate rule. One of them drives the car, while the other one sits at the back with their child. It may seem to be a good idea for the parents to soothe them into a good nap. However, the truth is that it usually backfires as the child feels FOMO (a short form of fear of missing out), just like how adults experience it.
The child could think something is really happening, and their fear of missing out can kick in. Consequently, there will be no chance of falling asleep. Kids like to be in action and stay awake to interact and see what happens.
Hence, it's good to start your journey by sitting in the front seat of the car. Shift to the back seat only if your kid needs attention or consoling when they simply begin to sob.
Tip #6. Make Sure To Dress Them Up Comfortably
We know how lovely those little dresses with lacy detailing and tiny suits look on the kids. But do you know how uncomfortable can it be on a long car ride? These fashionable clothes can be warm and itchy, making them feel uneasy throughout the journey.
Perhaps you know sleeping goes out of the window when one feels discomfort. 
So, if you want the best of both worlds, such as style and comfort, fashion and sleep, bring Kids Flimsy Catalonia Blanket Hoodie. This kids Catalonia hoodie Blanket is a product having ultra-soft microfiber fabric that comes in use in many ways. The lightweight and comfortable features are its USPS.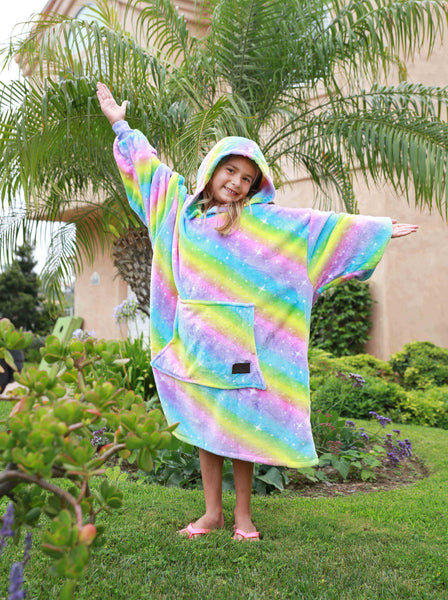 Use it to cover your kids from their head to the toe and let them stay warm and cozy all through the long car ride. Besides, the sweater shirt of this blanket has a spacious front pocket. Keep snacks, remote, and phone in this big pocket, or put your hands inside to keep them warm. All-in-one, this hoodie blanket is a great space savior which allows you to skip bringing a blanket for the kids.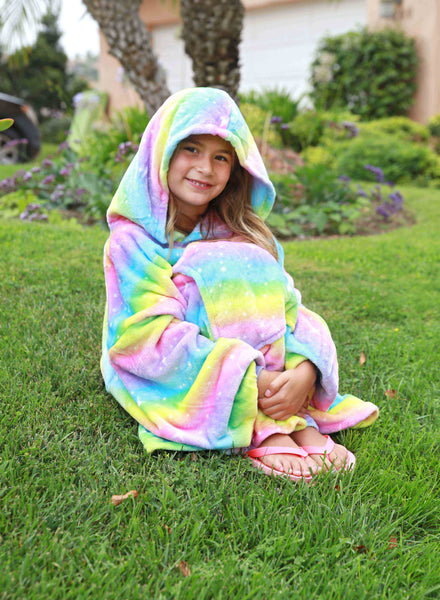 List of Catalonia Blankets For Kids We Love
  1.Kids Catalonia Sleeping Bag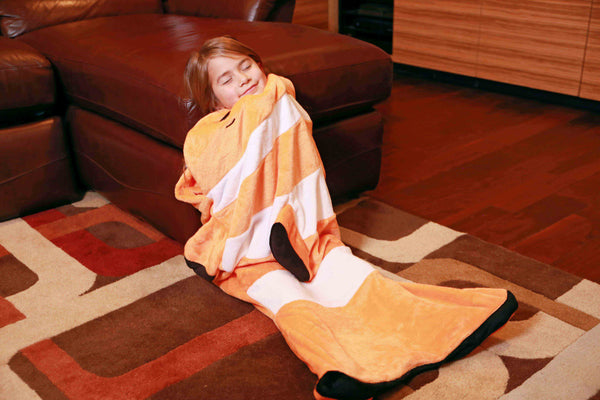 Get this adorable Kids Catalonia Sleeping Bag for your little munchkins that actually works as a blanket. This tail-like blanket is usable for camping trips, slouching on the couch or sleeping in the bed, traveling overnight, or in the car. The super amazing pure micro plush polyester material offers a soft touch that comforts your kids to stay warm all year round.
You can even consider this throw blanket as a Christmas or birthday gift for kids and let their imagination go wild, cuddling and sleeping in it.
2.Kids Catalonia Mermaid Tail Blanket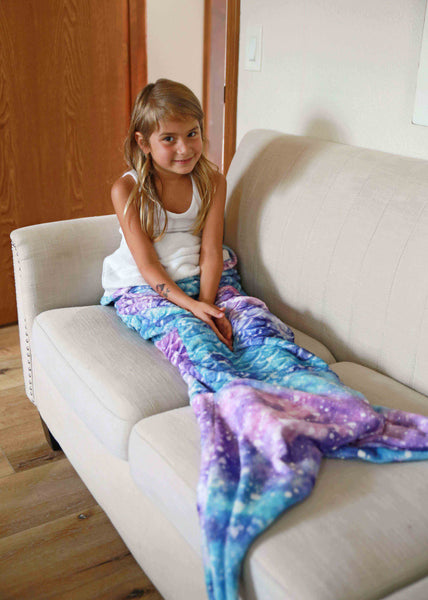 This Childrens Mermaid Blanket with a cute mermaid tail comes in the size of 61" x 19", which makes it usable for two-in-one. Yes, both adults and kids can fit into this one-size blanket as it has enough room to settle your body inside it. Moreover, the ultra-soft and lightweight features can give your kids cozy and good sleep.
So, carry this mermaid blanket anywhere you go with your kids, including camping, car ride, sleepovers, and so on. It can also be a nice gift to present on birthdays and Christmas. Thanks to the 250gsm polyester, the super soft flannel material shouts premium quality and provides warmth to your children and yourself.
3.Kids Flimsy Catalonia Blanket Hoodie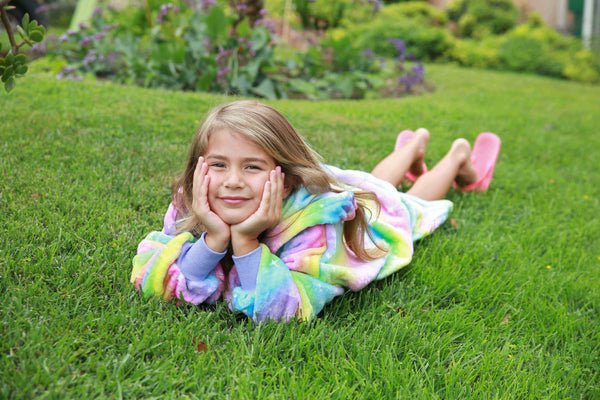 Kids Flimsy Catalonia Blanket Hoodie is a perfect blanket to keep you comfortable and warmer all night, both indoor and outdoor. So, while you enjoy concerts outside, sports events or post-game,  camping, reading books, or lounging around the room, don't forget to make it your partner in crime.
This blanket has ultra-soft microfiber material that makes it lightweight and comfortable even though it has a giant hoodie. Wear this Children's Oversized hoodie Blanket and keep yourself and your kids warm from top to toe.
Conclusion
Driving a car with your kids doesn't need to be a hundred miles of just chaos and sobbing. If you can make them sleep in the car, thankfully, you can get some time to relax and enjoy the ride.
So, try out these amazing tips and get a Catalonia Kids blanket before you start your vacation to let them sleep soundly.