Oversized Blanket Hoodies: What Are They, And Why Do People Like Them?
Have you started adding winter clothes to the wardrobe to get ready for the coolest days of the year? Then, you should not overlook a hoodie on your shopping list. This casual wear makes you feel highly comfortable. Available in a gender-neutral design, a hoodie lets you create a style statement. However, have you heard of an oversized blanket hoodie? Let us learn more about the Oversized Blanket Hoodies.
What is an Blanket Hoodies?
You may have noticed the trend of wearing baggy clothes. The world of hoodies also has a touch of this fashion. Some state-of-the-art boutiques have dresses with high-flown silhouettes.
An oversized blanket hoodie is a giant sweatshirt with a hood attached to it. It is almost as comfortable as a blanket. The giant sweatshirt hoodie makes your legs look longer. You will be able to show off a cool hip-hop style. The most tangible benefit of wearing the hoodie is that it promotes air circulation and gives freedom of movement. You will feel the warmth and look stylish with an oversized blanket hoodie.
The term 'oversized' never denotes that your hoodie is big. It needs to have a proper fit. Besides, wearing your older brother's clothes is not undesirable. However, your hoodie sweatshirt should be purposefully roomy. Make sure that it has the right structure and sleeve length. Thus, check the material and other details before buying your oversized blanket hoodie.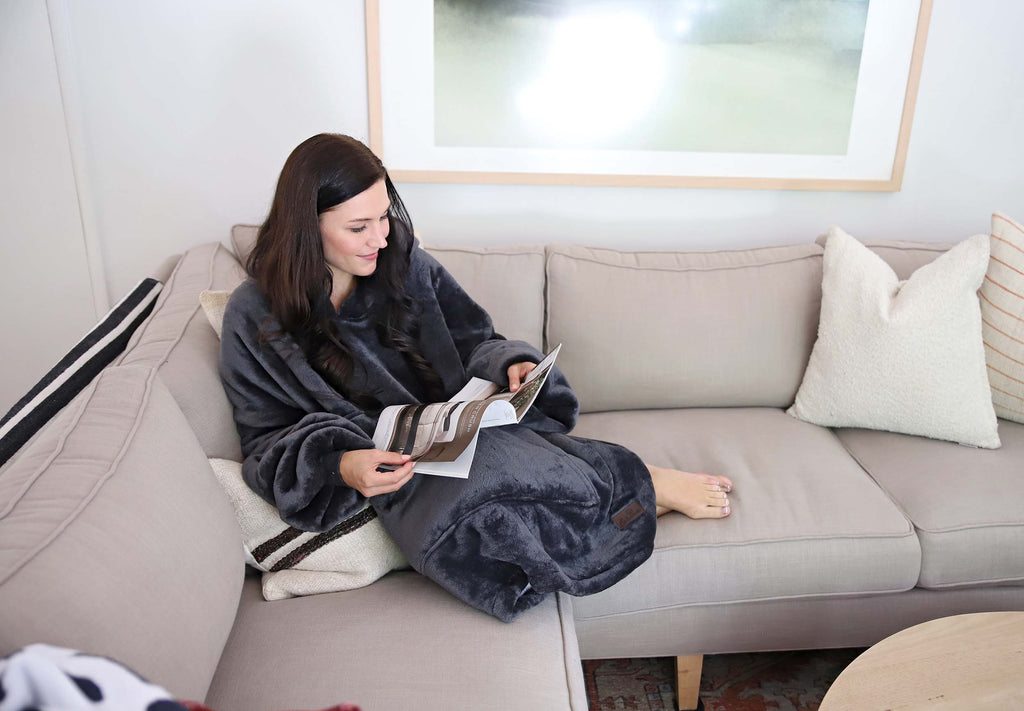 Why to buy oversized blanket hoodie
Both men and women like to wear hoodies during the winter season. Some feel better with trendy oversized blanket hoodie. But why do oversized blanket hoodie win the heart of several fashion-conscious consumers?
A comfortable winter wear providing an ultimate level of warmth
Wearing an oversized blanket hoodie will not make you look odd on informal occasions. While having a regular morning walk, climbing, and hiking through the trails, you can put on your oversized blanket hoodie. Thus, hoodies are the best choice for feeling warmth during both morning and evening hours. Although it is a mild winter day, you can put on an oversized blanket hoodie to get the best feelings. 
An oversized blanket hoodie can be an alternative to a sweater. It is made from quality fabrics and includes long sleeves. However, the fabric's thickness can make a difference in the level of warmth provided by your hoodie.
With a hood at the rear side, your oversized blanket hoodie can protect your head from snowfall and rain. However, heavy rainfall can make you feel wet.
As it is an oversized blanket hoodie, it will never restrict your movement. It is one of the biggest advantages of wearing oversized clothing.
The winter season normally makes us unproductive, as we feel lethargic and lose energy throughout the day. We do not like to come out of our blankets to do the everyday work. You can put on a high-quality oversized blanket hoodie to get rid of this feeling and restore your energy. You will again become productive and resume your everyday schedule. While going to grocery stores and doing other activities, you can comfortably wear a sweatshirt.
Show your cool and stylish look
You have already learned about the functional value of your oversized blanket hoodie. Today, hoodies are available in a range of styles. While some of them have pockets, others do not have this feature. Some hoodies have a zip-up style at the front, whereas others please you with a pullover style. There is also a faux fur-lined hood to provide you with additional warmth.
Hoodies also range from a single, solid-colored design to a multi-colored model. The best fact is that you can pair them with any shirt and jeans. Moreover, you can wear any standard footwear, sports shoes, and snow boots to look smart with an oversized sweatshirt.
While looking for normal hoodies, you can find different size options like small and medium. However, in the case of oversized blanket hoodie, you will not have this issue, as it fits almost every body contour. That is why it is easy to buy an oversized blanket hoodie without any size concerns. It is available in a single size. Buy one piece of oversized blanket hoodie and let your family members try it out. You will save money with your deal.
A valuable gift for any person
You may have started searching for the best Christmas gift for your near and dear ones. You can buy oversized blanket hoodie to make them feel warm in the winter season. A premium quality hoodie is the most considerate gift you can purchase for your beloved. Kids also like to wear bright-coloured hoodies to create a style in the winter months. 
No hassle in washing regularly
How do you feel when you need to clean your heavy blanket? You do not like this task, but keeping your blanket dirt-free is important. But, it is easy to clean your hoodie. The best lightweight sweatshirts are made from machine-friendly materials. Thus, you do not need to put manual effort into cleaning the hoodie.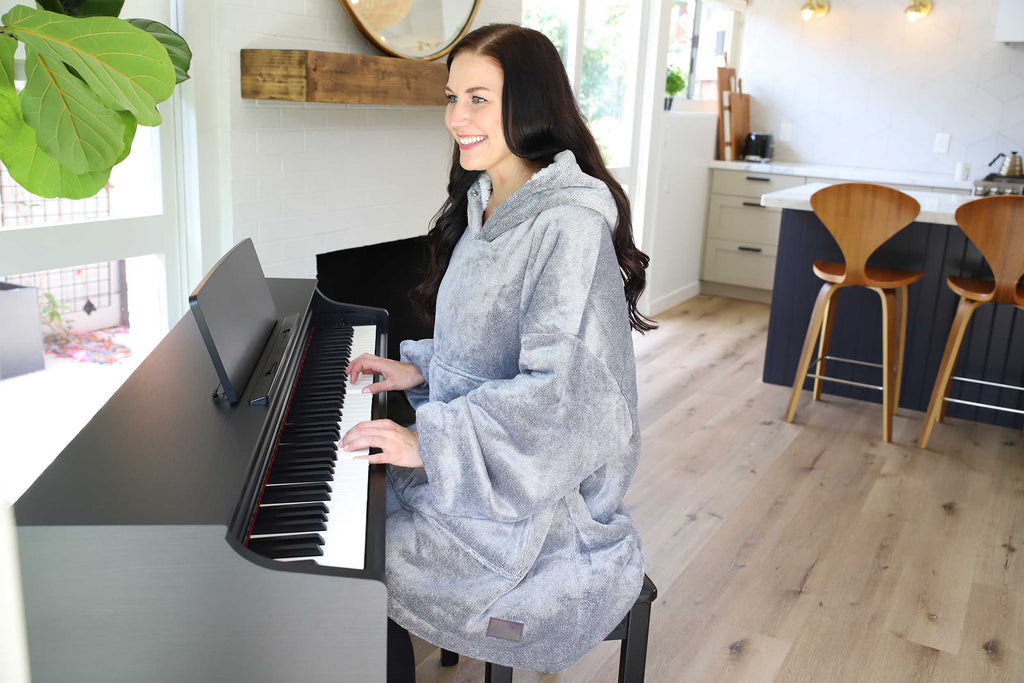 Who can wear oversized sweatshirt hoodies?
There is no age limit and gender restrictions regarding the use of oversized blanket hoodie. From a 10-year-old kid to an 80-year-old grandpa, everyone can put on a hoodie. You will get real comfort during the winter season.
One of the most notable features of the oversized blanket hoodie is their kangaroo-style pockets. You may put your mobile and other small items into these pockets.
When do you need oversized blanket hoodies?
Your wardrobe may have woolen sweaters and other winter clothes to wear on different occasions. You like to put on your winter wear based on your preferences and purposes. Still, when is the best time to wear oversized blanket hoodies?
Start your day by wearing a hoodie
You have enjoyed a sound sleep with your cozy blanket throughout the night. But, while waking up in the snowy morning, you need some warm clothes. Open your wardrobe, take out your hoodie, and go out for a morning walk.
No thermostat? Bring comfort to your body with a hoodie
Is there a single thermostat in your house? You regularly have a clash with your siblings to install the thermostat in your own room. Never be concerned. Wear your cozy oversized sweatshirt hoodie and solve the problem.
Do you have a habit of snuggling up with your book and falling asleep while reading it? To sleep peacefully without feeling cold, you can put on your sweatshirt hoodie.
Have a sweet nap in the winter evening
Some of us like to sleep during odd hours. A fleece oversized sweatshirt hoodie can wrap our bodies and retain the desired warmth at that time. There is no need to use a blanket every time you fall asleep.
Wear your hoodie and watch your favorite movies
Do you loll on our sofa and watch movies and TV? You can wear your hoodie to keep your body safe from the chilled air.
Best oversized sweatshirt hoodies- Top 3 picks for you
We have reviewed the best 3 products in the market.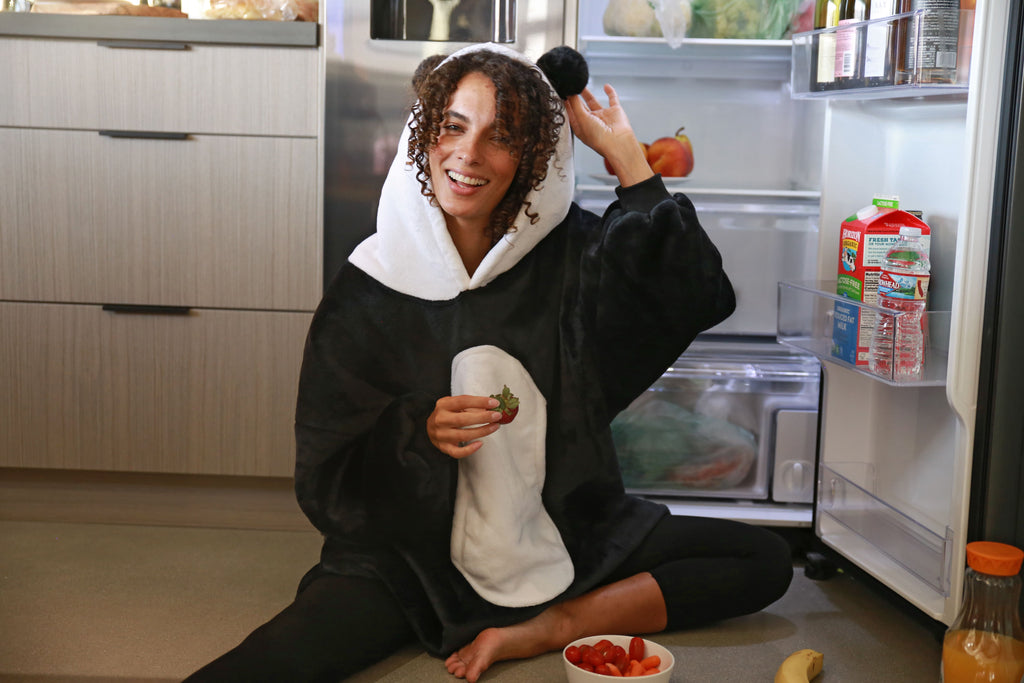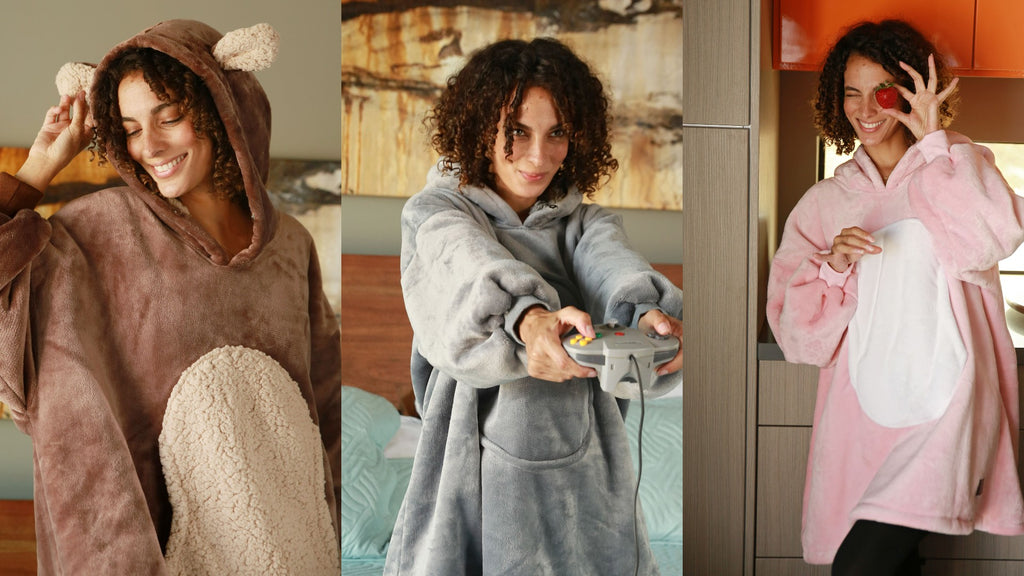 If you're looking for something fun, Catalonia Store also have some funky animal designs.Like this animal pattern Oversized Sweatshirt Hoodie for Adults available in panda unicorn bear and cat theme.
The height of the hoodie is 33 inches, while the chest has a width of around 32 inches. Sleeves include elastic cuffs at the end. A very special feature of this hoodie blanket is the large and fluffy front pockets on the clothes, which very lively and cute and can a lot of items.
It has a perfect combination of warm and unique design. Thus, You can show off an informal style with your hoodie sweatshirt. Attend outdoor events, concerts, and other shows with this hoodie.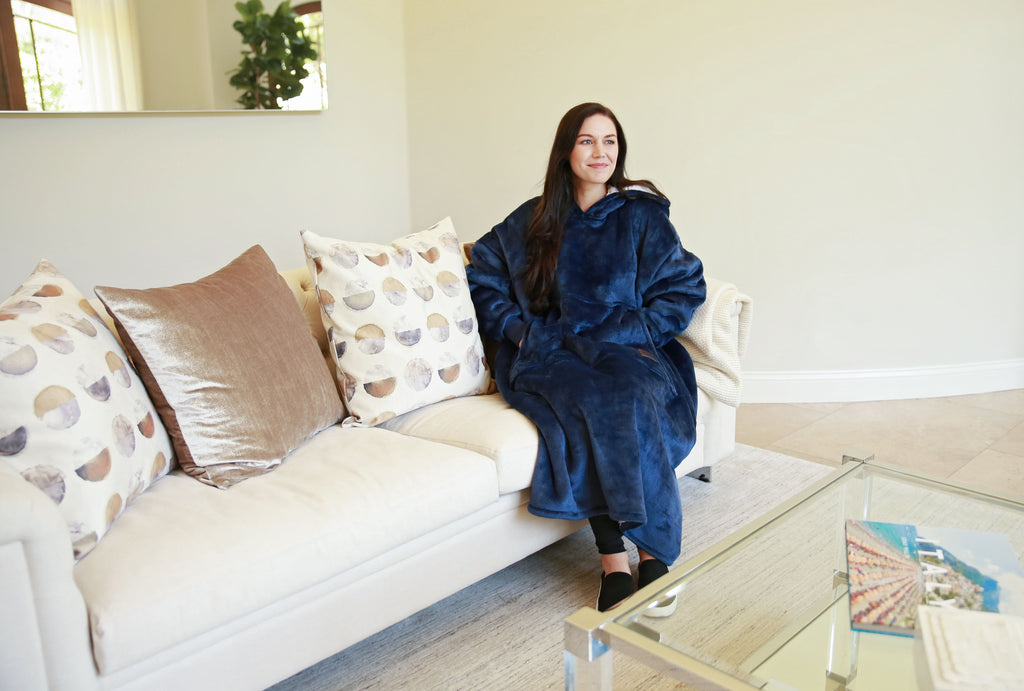 This oversized blanket hoodie is available with a large front pocket, and you can keep your hands warm. The pocket can also be used for storing your TV remote, mobile, and other personal items. As it is an oversized design, its roomy fit will make you feel comfortable. The Sherpa Oversized Sweatshirt Hoodie is made of soft material, which gives the best feelings throughout the winter season.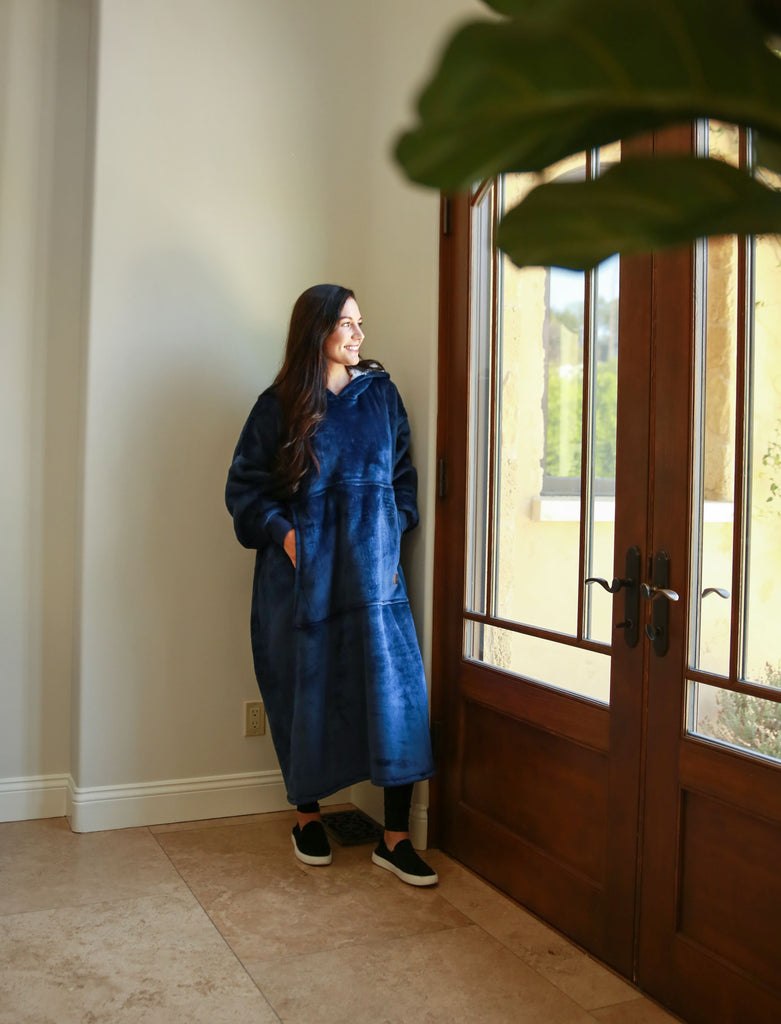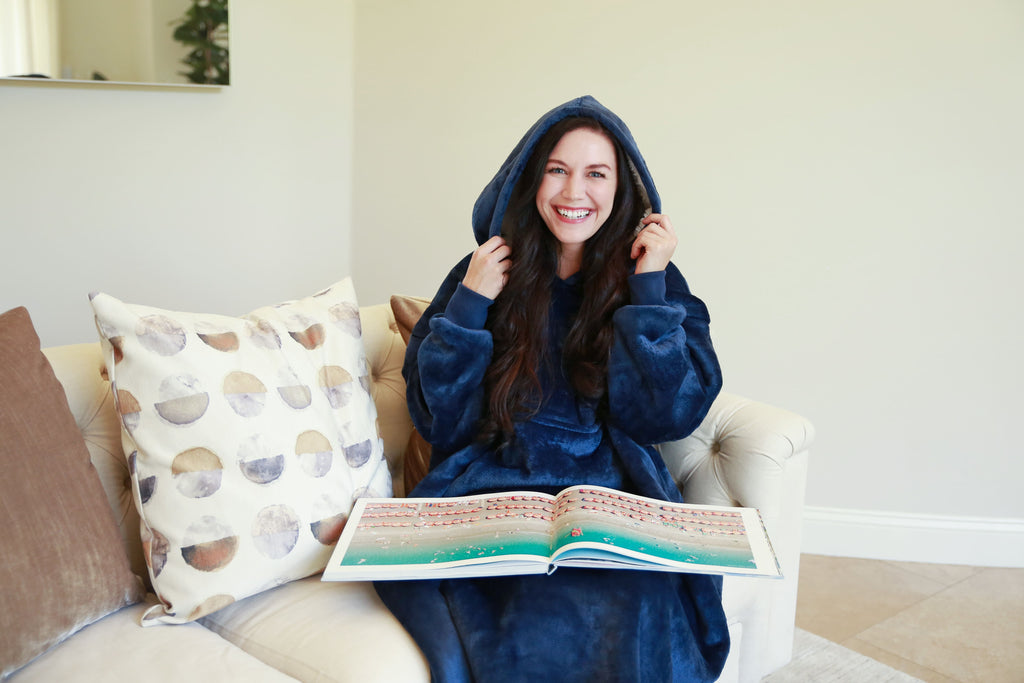 Choose this sweatshirt hoodie for both outdoor and indoor events. The micro smooth fleece material has added an aesthetic value to the oversized blanket hoodie. Moreover, the lightweight hoodie is easy to carry to any place during your trip. The hoodie is available in a range of colors like aqua green and blue.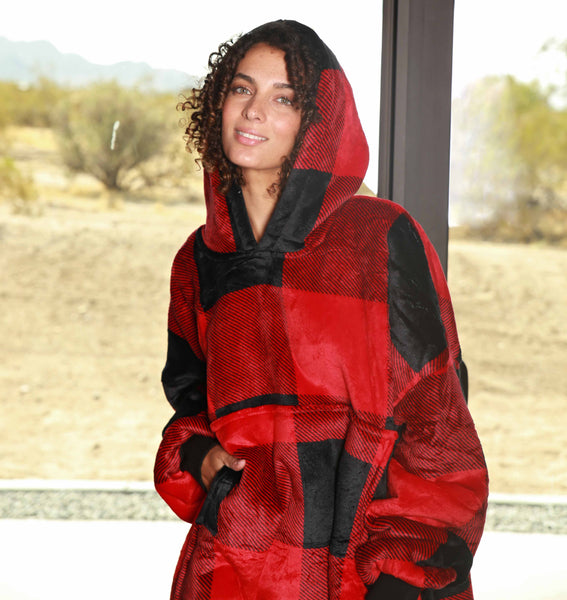 With a vibrant look, this classic sweatshirt hoodie has grabbed the attention of several women.It is designed oversize for a comfortable roomy fit. Available for men, women, teenagers and in youth size.Featured double layers of fabric, the plush sherpa side or the micro smooth fleece material, no matter which side you choose to wear, both fabrics are extremely soft with a warm comfortable feeling for your entire body.

You can use an oversized blanket hoodie on the coldest days of the year. It's ideal for camping, outdoor sporting events and concerts, lounging at home, watching TV, family time, walking your pets, reading a book, while working on your computer.
Conclusion
You can now choose any of these hoodies to flaunt your style in the winter season. Hoodies are available in different styles and colors that match your preferences. Check the materials used for designing the hoodie. In most cases, the oversized blanket hoodie has a knee-length design. The minimalistic look is one of the common traits of sweatshirts.
These oversized pieces resemble blankets, though they have a flattering design. The well-knit piece looks like a flowing skirt. Pick the right footwear that matches perfectly with the oversized sweatshirt hoodie.