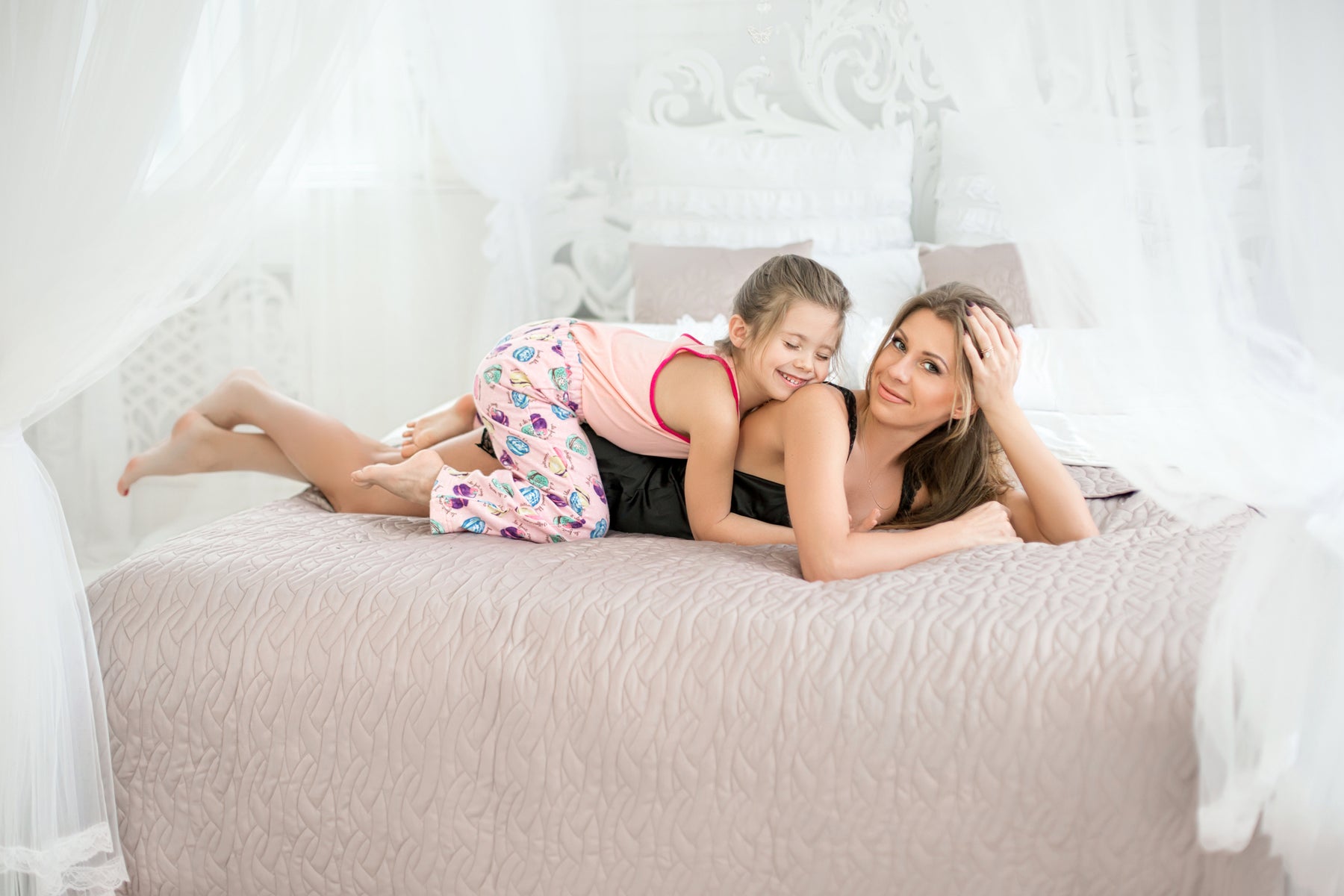 How to choose the best quilt for your room ?
There is an immense amount of effort and meticulous care that goes into crafting quilts. Which is why you too should invest some time and attention to choose the perfect quilt for your room. After all, in the current style-driven paradigm, quilts add so much more than warmth and comfort to your bedding.
You can express your personal taste and style in your room, through the immaculate designs, vibrant colors, and distinct textures of the quilts.
 By picking the right quilt for your room, you can add a lot of personality to your bedroom decor. However, in order to make the right choice, there are a few things that you must understand about quilts. Having prior knowledge about the following aspects would help you get the right quilt for your room.
When to use a quilt?
If you happen to reside somewhere that is warmer, or if you are someone who prefers to keep the windows open during the night, then a quilt is probably a must for you. Quilts are thin and light-weight, which is why they are a far better option as the weather starts to turn a bit warm. By replacing your comforter with a nice quilt, you would able to sleep keep comfortably through the cold night or under the air conditioning.
Conventionally, quilts are made up of a thin layer of liner, that contains two or more layers of flannel fabric, that is placed right in the middle of two cotton fabric layers. The layers are compactly stitched, which is why quilts are not that thick. Given, how thin and light quilts are, it allows them to provide slight warmth, without making you feel aggressive heat during the night. However, heavier quilts with tightly woven outer layers may be excessively warm, and therefore, must be avoided.
Characteristics of a good quilt
There are a few instructions that will tell you that you are looking at a good-quality quilt.
Quality, Breathable fabric
You would always find a good quilt light, soft, and comfortable. Most importantly, a good quality quilt is easily breathable, ensuring that there is definite room for the air to pass through a little bit, so that you may not feel suffocated or overly heated while sleeping.
From traditional and ethnic designs to modern and simplistic patterns, with good quilts, you are likely to find numerous designs and colour combinations. You can choose what you think would best suit the tonal style and colour palette of your room.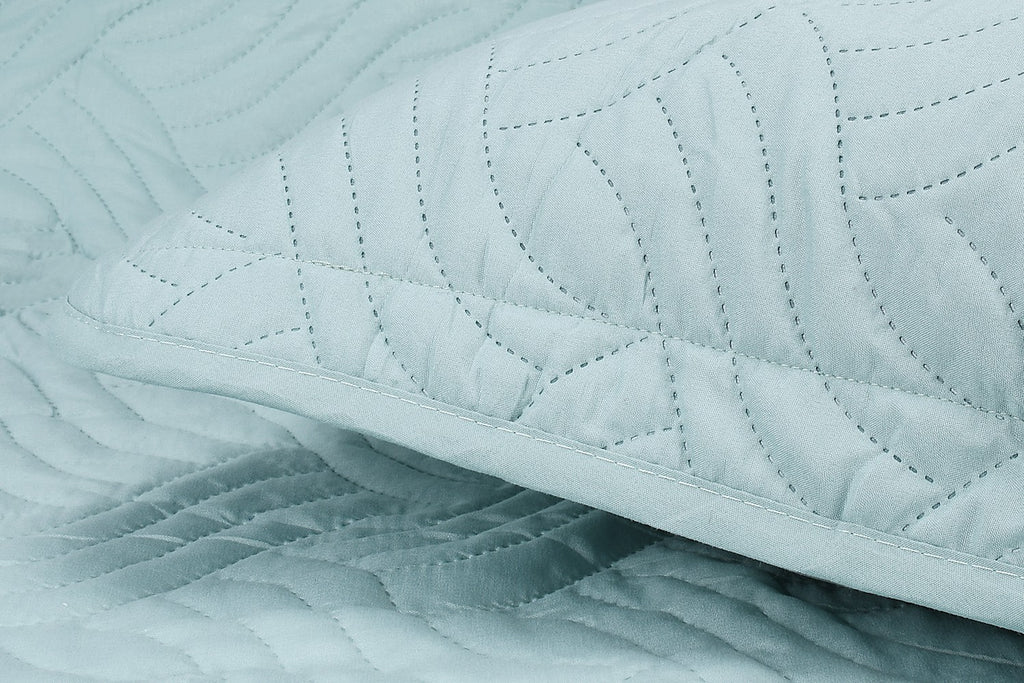 How to choose the style of the quilt?
When it comes to choosing the perfect quilt for your room, an essential thing to consider is style. The component of style is never trivial, especially when we are talking about constructing a well put-together look for your bedroom. Bedding is often the very first thing that catches one's eye on entering a room. Therefore, it is important for you to carefully consider the colour palette and stylistic tone that you want for your room so that you can choose quilts accordingly.
The following information would help you pick the right style of the quilt for your room.
If you are someone who prefers simplicity, over-elaborate or fancy styles, then you should play it safe and pick white or similarly light-coloured quilts with minimal designs and patterns. It is hard to go wrong with the classic white theme, as it works with almost anything. Irrespective of the colour scheme of the room, you can always contrast or complement with a minimalist style statement. You can pick white linen or crisp cotton duvet quilts that comes with a clean and clear edged style, which means there are no frills and the designs are also not very intricate. This style has a very calming and healing effect. Even if you want a bit more textured look for your quilt, you can still choose lighter colors in fabric options such as the jacquard woven quilt or coverlet.
The best way to establish a unique sense of style within your room is by picking a more lively design or pattern as the central theme of the room. A truly singular and distinct vibe can be achieved by going through the multitudes of options and selecting the ones that best represent your individual style and preference. For instance, a honeycomb medallion motif appears phenomenal in brighter colors. While the monotonous colors like gray and earthly brown are complemented well with warm colors such as yellow and orange in Indian fabrics, patterns inspired by the spiral motif against bold coloured backdrops is more of an Italian staple. You can be quite creative and inventive with such experimental driven style. So feel free to explore your curiosity.
Playing with layers and fabrics, this style exudes a feeling of warm and fuzziness in the atmosphere of the room. You can create this style by pairing a thinly-stitched quilt with a thicker one, in a down insert-filled duvet that is doubled back a bit to keep the layers visible. You can also meticulously layer the pillows to forge a more exuberant look. You can interchange between more complex patterns and simpler textures while playing with this style.
With this, you are basically getting two, for the price of one.
Double-sided coloured quilts could be a perfect choice, if you are someone who likes to switch up the look of your room, every once in a while, but don't want to shell out extra bucks on buying multiple quilts. By buying a double-sided colour quilt, you would be able to change the look of your room, just by placing the quilt upside down on your bed.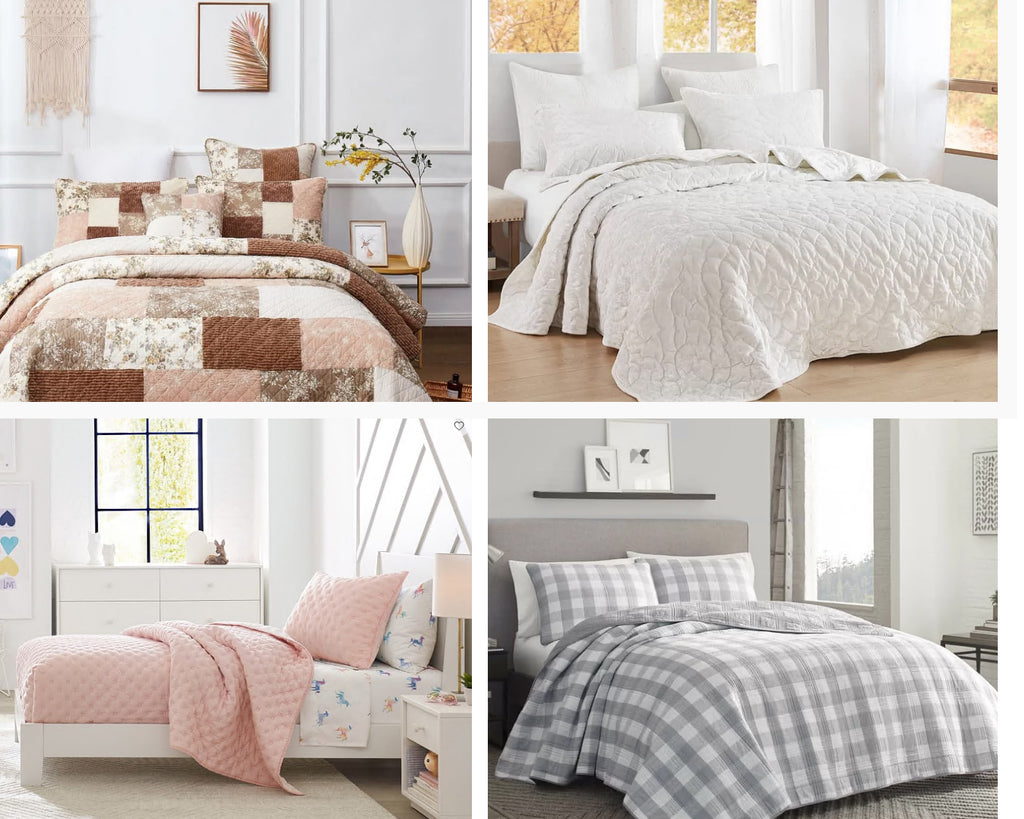 Picking the right quilt
 From the above, we can clearly concede that quality of the fabric, the thickness of the quilt and style or pattern of the quilt plays a crucial role in creating a bedding look that seamlessly captures the overall tonality or theme of the room. However, no matter how diligently you take those things into account, you can still struggle to find quilts that fit the criteria of your desired quality, size, or style. It could be tough to find something you know would suit your requirements, especially if you don't want to blow a hole in your pocket in the process of finding the right product.
Why Catalonia quilt-set could be an ideal choice for your room?
Catalonia, with its classically designed quilt-sets, aptly combine minimalist patterns, with quality fabric and intricate stitching. Perfectly suited for master bedrooms, you can use Catalonia quilts anywhere from your guest room to your couch with perfect ease and comfort.
In its catalogue, Catalonia includes the newest and trendiest colors, that you can pick to create a more refreshed look for your room. The exclusive range offered by Catalonia is prepared under stringent supervision, ensuring the quality of the fabric, as well as, stitching. These are highly durable and easy-to-maintain quilts. The longevity of these quilts is another reason why they could be a good deal for you. The styles being offered by Catalonia, are seasonal and trans-seasonal trend-led designs.Considered timeless in their appeal, these designs can easily fit into any style tone.These quilts appeal to a spectrum of tastes and preferences.
The minimalist colors and modern textures of the fabric, give these quilts more contemporary aesthetic. The quilts are available in multiple bed sizes, so you can take your pick. Getting something that fulfil your style requirements, without troubling your budget could be quite a challenge. However, with Catalonia quilt-sets, can get stylish, high-quality quilts at affordable prices.
Here are some of the features that stand out about Catalonia quilt-sets:-
Splendid comfort during the summers
The meticulously stitched thin quilts by Catalonia are quite effective against the slight Air Conditioner night-cold, during the warmer months. Catalonia's neither too thick nor too thin quilt ensures a good night's sleep, as you won't feel too hot or too cold while using this quilt once the season turns warm.
Spectacular fabric
Majority of the complaints that arise in quilts, have to do with the quality of the fabric. Light-weighted quilts by Catalonia are made from 100% polyester, ensuring the premium fabric quality of the quilt.
Multiple sizes
With Catalonia quilts, you have multiple sizes to pick from. You can choose the 100x106 inches King size, that is a 3 piece quilt set that comes accompanied with a quilt and two shams that are each 20x26 inches in size.
If you prefer a smaller quilt, you can pick the queen size that is 90x96 inches, and which also comes with two shams that are both 20x26 inches in size.
An even smaller size is available in the twin size that is 68x90 inches and is accompanied with one sham i.e. 20x26 inches.
Low maintenance
Catalonia quilts are easy to clean and are completely machine washable. All you have to do is wash them on cold, with mild detergent and set the tumble dry at low, and you can clean your quilt without any hassles.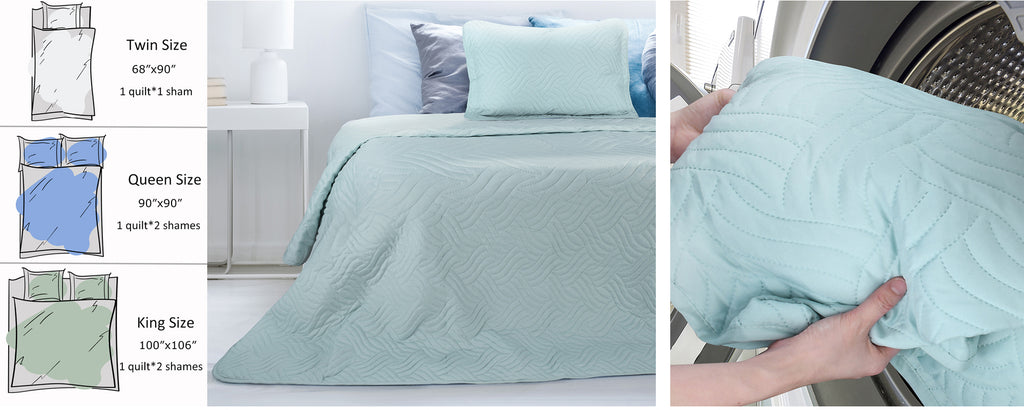 Conclusion
If chosen wisely, quilts have the ability to make a style statement. You can establish a design or pattern signature, giving a whole new makeover to your room. Comparing, contrasting, and experimenting with the themes of the room, a quilt can create a lasting stylistic impression. Put a bit of thought into the process of picking the right quilt, and you can bring home not just a quilt, but rather a work of art that will give warmth to your body and happiness to your eyes.