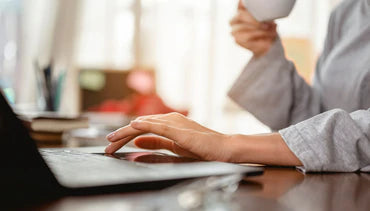 HOME COMFORTS/Things to improve working from home
Working from home is becoming more and more popular among people across the world. It offers enough flexibility in the way of doing the job. However, this luxury may turn out to be a missed opportunity if you do not plan accordingly.
Many people say that working from home is the litmus paper to productive capacity. In addition, some would even debate over the need for motivation to execute your job role with much more efficiency and submit at the right time when you work from home. Though in reality, you do not lose productivity when working from home but do not do the basics right.
While working from home, you tend to step out less of your home. Plus, you do not have to deal with the typical routine of a grown-up person. Furthermore, there is no denial of the presence of distractions at each step. You must plan your routine and consider your comfort to avoid compulsions.
Besides, working from home means to create your own space that will allow you to increase productivity and make you feel happy.
Creating a comfortable and relaxing space can encourage you to work more efficiently. Planning to improve home comfort helps neutralise the struggle you face for working remotely and promotes the perks. perks. We have mentioned here a few suggestions to improve your comfort while working from home. But before that, let's see why it is so important to create a comfortable working space.
Importance Of Creating A Comfortable Working Environment
What can be better about working from home than the utmost level of comfort and joy? A relaxed physical space can create a more optimistic environment, which in turn will improve the motivation to work. Consequently, there will be a greater chance to produce good outcomes.
For instance, when your workplace receives an abundance of natural lights, you will also get exposure to Vitamin D. This is said to help in improving the mood. Hence, a clean environment that is clutter-free will remove distractions and increase concentration levels.
Suppose you are sitting at a place in your home and working on the to-do list. Suddenly, someone comes into the room and turns on the TV to watch a movie. In such a situation, what will be your instant response?
Most probably, you will turn around and look, thus creating a distraction to your work. It is more likely to happen if you choose a random workplace. Therefore, create a space where you can work without external distraction. To achieve that-
Choose a cosy corner for yourself where you will get enough natural lighting
Set up a comfortable chair and place a desk
Keep all of your work essentials on the desk
Research shows that those who get more exposure to natural light sleep better. They also stress less and remain active all through the day. This is because light stimulates the neurotransmitter and key hormones. Furthermore, it influences everything from the immune system to mood.
So, try to set up your workspace near a window. But, if you do not have much access to natural light, use lamps to brighten up your work area. Exposure to the harmful blue lights radiating from the screen for a long time can take away a night's sleep. So, expose more to the natural light or at least take small breaks and go for a brief walk.
What Can You Do To Improve Comfort Levels?
Though every working person has their own way of enjoying the comfort, we are going to discuss the most common ways following which you can increase the comfort levels of the home to work.
Appropriate Seating Or The Choice To Stand
Contemporary working from home expects that the workers will be as productive as they were typically working from the office. This means workers usually have to sit for hours in the same place.
However, when you sit for long hours in the same place, you are seriously harming your health. Therefore, you need an appropriate seating space or enough space to stand freely.
Modern chairs usually come with an ergonomic design that helps to keep spine problems away. But it is better to check whether the chair is suitable for long-term use or not before bringing it home. See if the chair has an adjustable height of both the armrest and the chair.
Along with this, the adjustable backrest feature of the chair is important to provide a high level of comfort. Last but not least, check the swivel base of the chair. Features like an independent rotating base help to give extra comfort.
Using Open Plan To Work Efficiently
An open-plan workspace or open working space is a working environment with no internal walls or boundaries. This is one of the most popular working settings among several companies worldwide. Using an open plan has multiple perks. It is not only good for the health of the worker but also helps to nourish creativity and increase productivity.
Keeping The Temperature At The Right Levels
Among many big problems, the temperature at an incorrect level can create an adverse effect on the work environment. The Health and Safety Executive (HSE) has been guiding the recommended temperature levels. Also, it administers what the business owners can implement to make the environment more comfortable.
Following this, measures have been taken to include the use of fans. In addition, the relocation of the workforce to a part of the working area where there is an appropriate temperature.
So, when you are working from home, try to keep the temperature of the room at a comforting level. This will help you maintain attention towards your work.
Using Plants
This is one idea that might not have crossed your mind. Bringing some plants into the workspace would create a positive effect on your productivity. But research shows that keeping plants in the workplace improves mood. As a result, the work output also increases.
As you know, plants also consume carbon dioxide and release oxygen. This improves the air quality of the working space. So, if you want to make your working space joyful, add greenery.
You don't need to get many plants, but a few of them are enough to lower your stress level and restore your attention and concentration.
Use Wearable Catalonia Blanket
Catalonia Wearable Blanket With Hooded
Get premium quality Catalonia Wearable Blanket With Hoodie and enjoy the comfort like never before. This Fleece Catalonia Blanket hoodie is a product of premium quality that comes with smooth micro mink fleece on both sides.
The Catalonia wearable blanket is very soft and keeps you warm and comfortable all day and night. This one size is perfect for all as it is not only a poncho robe but also a fleece throw blanket. Plus, this convenient cape has no sleeves, which you can use as a regular throw blanket. There is no hole in it.
Whether you want this for your use or as a gifting item, Catalonia wearable blankets are the best. It is suitable for gifting on birthdays, Thanksgiving, mother's day, father's day, and for that special occasion.
 2  Catalonia Wearable Fleece Blanket
The Catalonia Wearable Fleece Blanket with sleeves are perfect for snuggling up inside when it is chilly outside. Lean forward to check your tablet, phone or laptop without any hassle. Also, if you lean back against the sofa or chair, you won't notice that your blanket is falling. This Catalonia Blanket cloak is available in multiple prints and colours. Order now and improve your home comfort to another level.
3 Catalonia Wearable Blanket Wrap
If you are looking for a comfortable, cosy wearable blanket, get your hands on this Catalonia Wearable Blanket Wrap. Made with super luxurious fabrics, this will provide you with great comfort. It also has a smooth flannel top and matches the colour sherpa lining that adds to its elegance.
You can get this fleece blanket with sleeves for adults in casuals, glamourous or colourful styles. This is a must-have for people who work from home. Besides, you can wear this anywhere from your camping trip to going on a walk with your dogs. The addition of sherpa lining helps to keep you warm all day and night. So, relax wearing this wearable blanket in a chair on a breezy night with a cup of hot chocolate.
Bottom Line
Indulging in self-care is important, especially when you have the opportunity to work from home. Working from home is not a hassle but a great opportunity to increase comfort and take care of yourself. So, improve your home comfort and create a space where you can actually work efficiently.
Adding more greenery, dedicating a space inside your home to work, getting an appropriate seat, setting the right temperature, and all are some of the ways to elevate your work from home experience. Mostly now when the world is inclining more towards working from home, you should follow the above tips for maintaining a good sense of control.
Most importantly, you can get more comfort and convenience when you get to sit comfortably and work. This is why you must get Catalonia wearable blankets, as these blankets can keep you warm and release stress. It is right to say that a warm blanket is what you need for yourself to make work more meaningful.