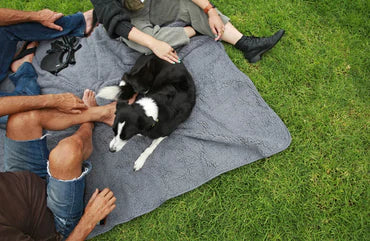 Catalonia waterproof dog blanket for indoor/outdoor use, and easy to wash
Being a parent of dogs can sometimes be a messy task. However, this does not have to be a barrier to snuggling your furry companion on your favorite chair or couch. When sharing your home with your dog, a waterproof dog blanket for couch can save your upholstery and allow you to enjoy cuddling time with your dog without stressing about your furniture.
The pup protector waterproof blanket has become an exciting trend in the dog bedding industry. Hence, the market of dog bedding is flourishing with a variety of pup protector bed, waterproof throw blanket and liners that help to keep your canine dry throughout the night.
Being a proud parent of your dogs, you should also note this need and bring home a comfortable, waterproof dog blanket. Catalonia is a great brand that offers different types of cozy, comfortable, waterproof dog blankets. In this article, we are going to explain the need of choosing waterproof blankets for your dog along with its relevant information. So, if you have a pup in your home, this will be a great help.
Why Should You Choose A Waterproof Blanket For Your Dogs?
Waterproof dog blankets are now available in different sizes and styles. This is primarily because dogs do not always stay on only the floor. The style of these blankets varies from regular waterproof throw blankets to stylish waterproof dog blankets for couch. They are available in different fabrics, shapes and colors. Some dog blankets even have bolters to give extra comfort to your dog to put on their head.
Besides, if you have waterproof dog blankets, it will come in handy to use them anywhere. Drape them on your couch, treat a dog bed cover or take them while traveling. The one common thing that all waterproof blankets have is their feature to soak all liquids and keep them dry.
Here is a list of benefits that you can get by using a waterproof dog blanket.
Saves Your Furniture from Soggy Pup
It hardly matters if it is wintertime or summer, a soggy dog at home can make soggy upholstery. You can put on a pup protector bed or waterproof dog blanket for couch. These waterproof blankets will quickly absorb the moisture and protect the sofa upholstery. Isn't it amazing?
Makes Dog Crate Comfortable
This waterproof blanket can also help in making your puppy's crate cozy and comfortable by adding a comfy, waterproof blanket. This comes with specially-designed layers that absorb urine or any spill.
Covers Dog Bed
No doubt, most of the dog bed covers have washable features. However, wrestling with it to uncover the bed isn't an easy job. In addition, it again becomes difficult to cover up the bed after it goes through a wash.
The advantage of using a waterproof blanket lies here too. Once you use a waterproof dog blanket, you will see yourself how easy it is to flip over the dog bed and toss in the washer.
Make Incontinent Pets Comfortable
Whether your dog is suffering from a permanent condition or just a curable temporary injury, a pup protector waterproof blanket is what you need. This will allow you to continue sharing your couch with your dog.
More Hygienic
Of course, when you can easily wash your dog's blanket and keep it neat and dry, why not up the hygienic game? A pup protector waterproof blanket is highly hygienic and durable that protects the couch and bed for years to come.
Maintain Fur-free furniture
Since dogs will shed fur, you need to think of ways to keep your furniture free of fur. With the waterproof throw blanket from Catalonia, you do not have to worry about furry furniture. This blanket will definitely work as a dog magnet!
Odour Resistant
There can be nothing worse than having a smelly dog blanket. It is unpleasant, unhygienic and terrible.
Catalonia Waterproof Dogs Blanket is going to be the security blanket for your dog. Its soft fabric and comforting scent will make your dog feel at home wherever they go.
Moreover, it makes an amazingly soft place to settle wherever you take your dog. Whether it's a restaurant or a friend's house, the odor-free blanket will not keep them quirky.
Ideal for both Indoor and Outdoor Use
We all know that humans love to socialize, travel to get a change in life. Similarly, dogs love to go out and fill their lungs with abundant fresh air. Plus, they get a chance to run freely on the beaches and green grasses on the lawn, which they hardly get to do indoors.
Besides, during the spring season, keeping them indoors for a long time can be a threat to their health. Indeed, natural elements like the sun, rain and air leave an overwhelming impact on the look, body, mind and overall health of your dogs.
However, there can be underlying tension that arises in your mind with outdoor play. Dogs are likely to get wet and run at least once around the house.
A waterproof throw blanket assists your dog to create no mess.
Waterproof blankets for dogs provide much-needed protection to your dog and make your home get less messy.
Easy to Clean
A dog blanket with a nasty smell and dirt is the most unhygienic thing. It is a great attraction for pests, creating inconvenience and health threats to the dog.  
Switching to a waterproof dog blanket allows you to maintain cleanliness with ease. Wash the blankets easily with a hose or just spot and rinse them. You can also give it a toss in the regular cycle and get a warm and fluffy blanket back after drying.
The fact that the washing and cleaning of the blanket take a few minutes to restore their appearance can act as an additional stimulus to clean them often. Nonetheless, it is better to check out the manufacturing instructions before using any random chemicals on these fabrics. This will ensure not to compromise their look.
Buying Guide
Before buying a waterproof blanket, there are a few things that are important to note. Not every waterproof blanket available in the market is of top quality. When it comes to blankets, Catalonia is a trustworthy brand that offers amazing waterproof dog blankets that will solve your issues.
Now that you know which brand to go for, here are some features to check while buying waterproof dog blankets.
Material
Whether you are buying clothes or a blanket, the material is very important. In this case, do not go for lining materials as they tend to loose fibers. Always choose puppy proof materials for the best result.  
Size
The dog breed and age group should be taken into consideration. Remember, every dog will not fit comfortably in any blanket. So, measure the size of the dog before purchasing the blanket. This will offer extra comfort and convenience to your dog.
Color
Whether you should get a classy neutral tone or a blanket with a simple design is your choice. But it is better to consider the color scheme of your house to fit the blanket perfectly and not break the tone.
Recommended Waterproof Catalonia Blanket
Catalonia Blanket provides waterproof dog blankets that are suitable to keep your dog and house clean and hygienic.
Catalonia Waterproof Dog Blanket, 50*30
Catalonia Waterproof Dog Blanket is available in comfortable 50*30 inch size. This puppy proof blanket is a durable waterproof fabric that can absorb urine or any liquid. Thus, its waterproof microfleece sides will never give you a chance to worry about your dog wetting the blanket or the couch. Moreover, you get different color options to choose this durable blanket.
Large Catalonia Waterproof Dog Blanket,60*80
Whether you prefer checkered design or classy colors, the Large Catalonia Waterproof Dog Blanket is available in both styles. Besides, the 60*80-inch large dog blanket comes with a sherpa lining that gives excellent insulation. As a result, dogs love this extra soft, comfy, durable and dry blanket.
Furthermore, it is machine washable on a gentle cycle.
King Size Catalonia Waterproof Dog Blanket, 80*90
If you have large dogs at home, we recommend you to purchase the king-size Catalonia waterproof dog blanket, which comes in 80*90 inch size. This waterproof blanket is going to be a life-changer as you can use it to cover up the bed, sofa, couch and even car back seat. Also, it will keep you away from daily bed sheet washing.
Bottom Line
Just like people, dogs also enjoy lying on a comfortable bed snuggle up with a soft blanket. And while your dog would be pleased to do it with any blanket, a waterproof blanket will offer more benefits than a regular one. A waterproof coating applied in the blanket helps to prevent spills and liquid leaks. Also, it offers a soft, warm and comfortable space for your dog.  
Not only that, but it also helps to keep your home clean and furniture fur-free. Notably, Catalonia designs dog blankets in different sizes and colors to fit different dog breeds. Try them out and feel the difference!