Must-have wearable blankets in winter to prevent cold during the COVID-19
Comfort is something we all look for in our lives, be it in choosing food items or in wearable items. It is always good to get a cozy dress. Cozy wearable blankets are essentially the most comfortable piece to adorn and lounge around the home. A wearable blanket can provide you with the ultimate comfort by donning it like a body wrap of grand fleece and comfortable plush linings. Yes, wearable blankets can wrap you around 360°. However, you have to choose the most suitable one to fit in your level of wished warmth and mobility. 
 Moreover, during this Covid-19 phase, with several areas still under stay-at-home orders, a wearable blanket is a must-have to keep yourself warm. It is becoming quite essential to prevent cold during the outrageous Covid-19.
 In this article, we are going to talk about getting comfortable in the shape of a large and soft blanket. This is not a regular blanket, preferably something that you can wear to increase your coziness. We know that it is undoubtedly an overwhelming feeling to choose from the array of wearable blankets. So, here are we to give a quick and easy guide that you should follow before buying the best wearable blanket for you.
Type of the Wearable Blanket
 There are multiple types of wearable blankets that may define different levels of comfort. Some are good enough to chill on the couch for hours and hours, while the others have stylish cuts and designs. These trendy cuts and designs are great for giving you a scope to still move around with comfort. 
 Wrap yourself in this warm and insulated wearable blanket like the way you don the oversized poncho.
 It is clear that wearable blankets are useful to adorn and go outside like for a concert as well as staying inside the house watching movies or simply laying down.
 Design And Size Of The Wearable Blanket
 Though there is no definite design for the wearable blanket, some flow till the bottom, while others end just below the waist like any oversized sweatshirt. First, you need to question yourself how much mobility do you need? Do you prefer to lay down on the couch and binge-watch on the television? Then a long and  supposed wearable blanket is suitable for you.
 Or do you prefer walking around your home, go on a ride, or simply move around here and there? If so, then a fitted and more short wearable blanket is perfect.
 Are pockets necessary?
 A wearable blanket gives you such warmth and comfort that you will get the tempting vibe of doing nothing. Plus, you would like to just snuggle on your favorite sofa.
However, now or later, you will have to change the television channel or reply to a message. In this case, if your wearable blanket has one or two handy pockets, it will benefit you. Then you can easily lounge around with the smart phone, television remote, or anything important close to the hands.
 What should be the thickness of the wearable blanket?
 If you are looking for a wearable blanket that you can quickly tug in to go for a brisk walk in the morning or evening, then go for thicker materials. But if you are looking for a wearable blanket to wear it all day, then a thinner material will do the job.
 Yes, just like sweaters and jackets, wearable blankets also come in a vast range of thick materials. You can get a plush double-sided wearable blanket that is more suitable for a chilling outdoor temperature. With this, you can also get a thinner material that you can adorn as indoor wear. 
 Since they come with excellent thermal properties, wearable blankets are capable of holding in a lot of body heat. So, we would recommend you to choose the one after figuring the temperature.
 The Best Wearable Blankets List 
 Browsing through a ton of products to choose the right product is tiring. To save your time and make your job easy, we bring you a list of the best cozy wearable blankets for you to choose from.
Wearable TV Blanket With Sleeves Arms Plush Sherpa Fleece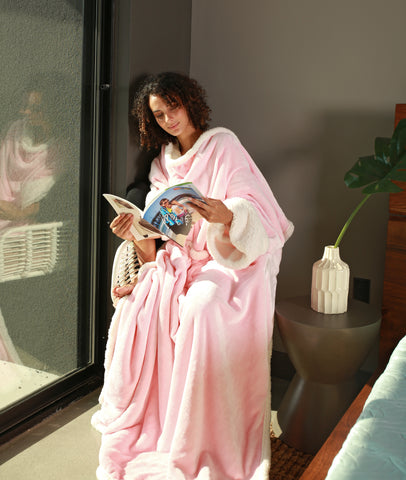 Our first pick is the Wearable Sleeves Blanket that needs to be adorned from the backward. This design from the USA has comfy arms and in-built foot pockets to keep your feet warm. 
 The long sleeves are ideal for covering shoulders, arms, and hands and resisting from slipping down. The unlocking is possible from the backside.
 Therefore, the Super Soft Sherpa Wearable blanket provides the necessary warmth from head to toe throughout the winter. Consequently, it will help to prevent from getting cold in the time of Covid-19.
 Don up and binge-watch, read or chat on the sofa. Additionally, the front pocket is great for carrying the smart phone or TV remote. This super luxurious and ultra-soft wearable blanket has a plush Sherpa fleece on one side and ultra-soft micro mink fleece on the other.
 It can snuggle down to give warmth to the feet. All these features make it an ideal gift option on Mother's Day, Christmas, or as a thanksgiving gift.
 Pros
Comes with pockets
Super soft lining
Thick material, feels soft, and provides warmth
Slip-resistant ability keeps your hands free
Machine washable
Cons
Not suitable for taller people.
Throw Blanket Wearable Robe For Adult, No Sleeves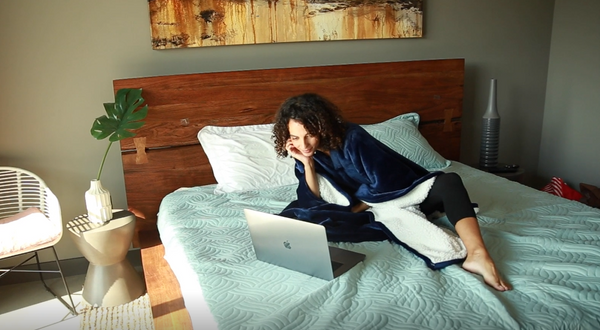 Adorn this wearable blanket robe to keep yourself warm and comfortable in the chilly winter nights during Covid-19. This is a great pick if you want to quickly slip on while camping, enjoying a concert, roaming around the house, or reading, watching TV, etc. In short, you can carry it anywhere you wish to keep yourself warm.
It is not like an ordinary poncho robe but a fleece throwing blanket. Open the neck from the middle and use it as a poncho. It will conveniently cover both the front side and backside of yours. Also, there are magnetic hooks attached to the neck opening. 
Thus, you can use it as a regular throw blanket or as a wearable blanket. It comes with a super soft micro mink fleece on one side and fluffy Sherpa on the opposite side.
With this, get a large front side pocket to conveniently carry your mobile phone, tv remote, chocolates, and more. For maintaining its softness, wash it in the machine with cold water and then tumble dry. Hence, it will make a perfect gift on Father's Day, Mother's Day, Thanksgiving Day, Christmas, or to husband and children.
Pros-
It has large front pockets
Machine washable
Ideal for wearing outside and inside
It has magnetic snaps
Suitable for kids, men, and women 
Cons-
There are no sleeves to keep your hands warm.
Throw Blanket Plaid Sherpa Micro Fleece Reversible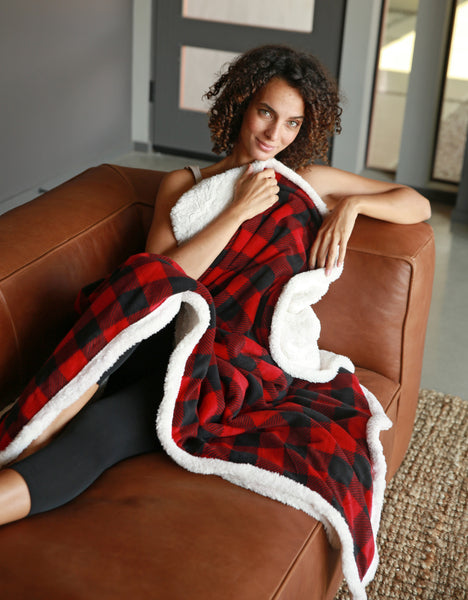 If you want a cozy, warm, and comfy throw blanket, then this design from the USA is perfect for you. The Catalonia Deluxe Plaid Sherpa blanket gives you warmth and keeps you comfortable in the chilly winter morning and evening.
Get ready to make this your comfy partner as it is just the perfect item for your bed. This reversible throw blanket has plaid printed fleece on one side and fluffy warm Sherpa on the other. 
Moreover, the 60 x 50 inches length is ideal for kids, toddlers, teens, and adults to snuggle up while watching TV or going out for concerts. The material is 100% polyester and made of premium quality micro fabric that offers a soft touch. 
For proper caring, dry clean the throw blanket separately in the cold water and machine wash. You may buy this for your use or gift it to someone you love and care for.
Pros- 
The material is of soft, premium quality micro fabric
Ideal use for all age groups
It is used both inside and outside
Cons-
Does not come with proper cuts
Oversized Hoodie Blanket Portable For Adults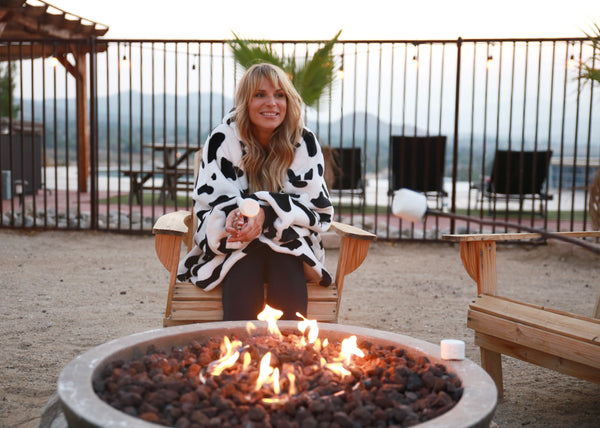 This is a creatively designed hoodie blanket that folds into the attached portable carry bag. For convenience, this carry bag comes with a zip lock and a handle. This versatile hoodie blanket has dual functionality. Fold this in the carry bag and use it as a pillow, or wear it as an oversized hoodie blanket. Hence, take it anywhere with you.
This fluffy hoodie blanket can keep you warm and comfortable with its in-built thermal on a chilly night. When is the pandemic showing its worst, who would want to get cold?  
Wearing this fluffy and comfy blanket sweatshirt can save you from the cold while you enjoy camping or just simply reading a book.
It is also reversible and comes with a soft and smooth microfiber on the front side and Sherpa lining on the flip side. From head to toe, this oversized wearable blanket passes every person's comfort wishlist.
 Besides, it comes with large pockets that are enough to hold tv remote or mobile phone, or snack items.
Pros-
This oversized hoodie blanket can fit all sizes.
The sleeves ends have an elastic cuff to keep the sleeves in position.
It gives comfort and warmth.
You can easily machine wash.
It is a fluffy hoodie that makes it all the more comfortable and movable.
Use this as a wearable blanket or as a pillow.
Cons-
Oversized Blanket Hoodie Sweatshirt With Zipper For Women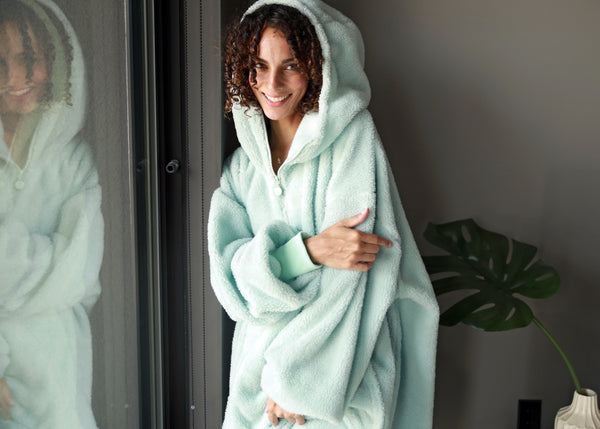 Our next pick is this Oversized Blanket Hoodie Sweatshirt that can give the needed warmth and comfort on a chilly night while you are camping or watching TV shows. Whether inside or outside, this will provide you with ultimate comfort and refrain from getting cold.
The soft microfiber fabric that goes into making this snug shearling oversized sweatshirt is of superior quality. Plus, the lightweight faux stealing gives an extra comfort level. 
 The blanket hoodie sweatshirt comes with a large front pocket, which is pretty significant to keep snacks, phone, or simply place your hands to warm up. Besides, there is also a little pocket inside in the front pocket to keep smaller stuff. 
 The one-size-fits-all is ideal for every teen and adult. Moreover, the end of the sleeve with elastic cuffs is perfect for maintaining the position of the sleeve.
 Pros- 
It is a great gifting option for birthdays, Christmas, Father's Day, Mother's Day, or Thanksgiving Day.
Offers maximum warmth and comfort
Comes with double front pockets
It has a ziplock on the neck
A hoodie to keep you warm from head to toe
Cons-
It will be loose for skinny people.
Oversized Blanket Hoodie For Teens Kids(7-13 Yr)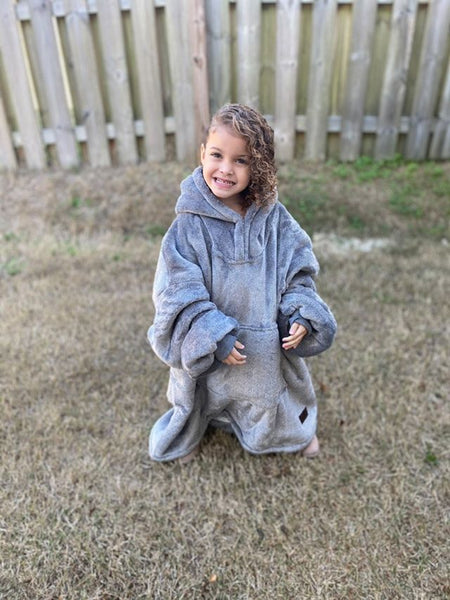 Save your kids from bad cough and cold at the time when Covid-19 is encroaching our health. Put it on the kids to keep them warm and safe while they enjoy their camping trip or reading a book on the couch.
This reversible oversized blanket hoodie has a smooth microfiber fleece on one side and Sherpa lining on the flip side. Thus, making it a cozy giant hoodie blanket for the kids as it covers from head to toe.
It comes with a fun kangaroo front Pocket, which is pretty big to keep snacks or place their hands and warm up. This teen hoodie blanket is appropriate for most teenagers from 7 to 13 years, be it boys or girls. 
Pros-
Comes with a large kangaroo front side pocket
Covers well from head to toe
Suitable for adorning inside and outside
Comes with elastic cuffs sleeves
Cons-
Suitable for a fixed age group
 Conclusion
 We hope you know the things you need to check before buying a wearable blanket. So, now browse through the products and choose the best.