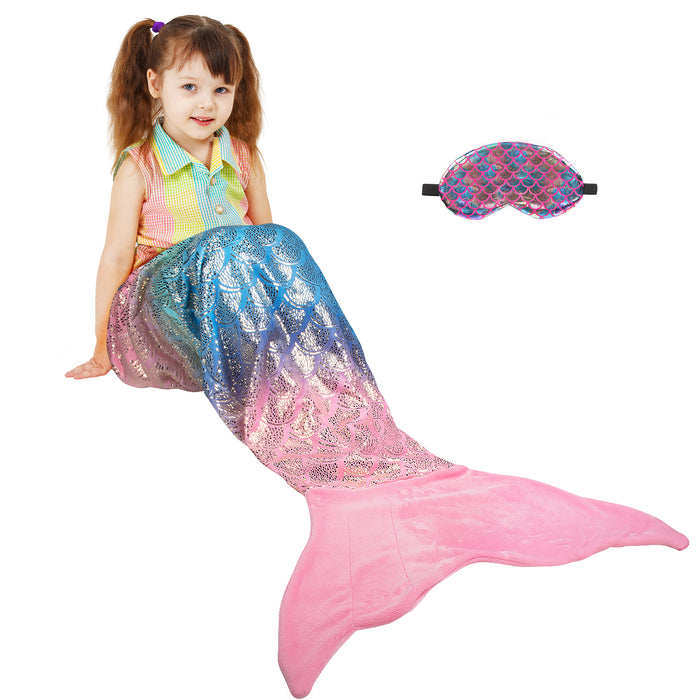 Glittery Flannel Mermaid Tail Blanket
Original price
$25.00
-
Original price
$28.00
Shipping Time

Shipped from USA. 0 - 1 handling days (fulfilled Monday - Friday)+3 - 5 transit days (fulfilled Monday - Saturday)
Shipping Cost

You will see the specific fee on the checkout page, before payment.
30 Day Refund/Return Policy

Items are entitled to be refunded or retuned if the buyer notifies the seller within 30 days of the date of purchase.If you need to get a exchange or return, send us an email at help@cataloniastore.com

For more info,pls click here to learn
365 Days Aftersale Sevice

We provide long-term services in line with our long-termist philosophy. As long as you need us, we are here. Please get in touch with us at help@cataloniastore.com. We appreciate your continued support of Catalonia, and we promise to return the favor.
Catalonia Blanket Care Instructions

Machine Wash Cold(86°F/30°C), gentle cycle.

Wash with similar colors.

Don't bleach. Don't tumble dry.

Don't Iron. Don't dry clean.

For more info,you can find all care instructions on the inner care tag of the product.
Introducing our Kids Mermaid Tail Blanket, a perfect addition to any child's bedtime routine who loves to imagine themselves as a magical mermaid! This cozy and warm blanket is designed as a glittering mermaid tail, making it a fun and exciting experience for your child.
To use the blanket, simply climb inside and let their feet fit into the tail fins. The blanket is shaped like scales and printed with glittery foil dots, adding to the magical mermaid experience.   The unique design of the blanket allows them to feel like a real mermaid, swimming through the ocean.
Made from 100% soft flannel fleece, this blanket provides a warm and comfortable experience that your child will love. Additionally, the package includes a sleep mask to help your child get a good night's sleep.
Overall, our Kid's Mermaid Tail Blanket is the perfect addition to any child's bedroom. It provides a warm and cozy experience while also allowing your child to let their imagination run wild. The unique design, complete with glittery foil dots and a scale-like shape, will make your child feel like a real mermaid.
Search our catalog
Enter a keyword and quickly find exactly what you're searching for
Blog posts
As winter approaches, the search for a unique, cozy, and practical gift becomes a priority. Catalonia Wearable Hoodie Blankets have gained widespread popularity as an ideal choice for many gift-givers. This article delves into why these hooded blankets are beloved and offers guidance on selecting the most suitable Catalonia  Wearable Hoodie...

Read now

We all know someone who just cannot tolerate the chilled weather. They will, unfortunately, catch a cold simply because of the higher temperatures in AC or the bitter winter wind. Of course, it is not in your hands to change...

Read now

Do you know what the best thing about the hoodie blanket is? Well, it can keep you covered completely with a lot of irritating slipping and cold breezes. The hooded blanket is pretty much similar to an oversized sweatshirt with...

Read now
Compare products
{"one"=>"Select 2 or 3 items to compare", "other"=>"{{ count }} of 3 items selected"}