Kid Animal World Sherpa Oversize Hoodie Blanket
Original price
$45.99
-
Original price
$45.99
Shipping Time

Shipped from USA. 0 - 1 handling days (fulfilled Monday - Friday)+3 - 5 transit days (fulfilled Monday - Saturday)
Shipping Cost

You will see the specific fee on the checkout page, before payment.
30 Day Refund/Return Policy

Items are entitled to be refunded or retuned if the buyer notifies the seller within 30 days of the date of purchase.If you need to get a exchange or return, send us an email at help@cataloniastore.com

For more info,pls click here to learn
365 Days Aftersale Sevice

We provide long-term services in line with our long-termist philosophy. As long as you need us, we are here. Please get in touch with us at help@cataloniastore.com. We appreciate your continued support of Catalonia, and we promise to return the favor.
Catalonia Blanket Care Instructions

Machine Wash Cold(86°F/30°C), gentle cycle.

Wash with similar colors.

Don't bleach. Don't tumble dry.

Don't Iron. Don't dry clean.

For more info,you can find all care instructions on the inner care tag of the product.
Introducing our amazing Kids Hoodie Blanket collection, specially created to keep your little ones cozy and full of joy! These magical blankets feature their favorite animal designs, including the enchanting Unicorn Hoodie Blanket, the cuddly Bear Hoodie Blanket, the playful Cat Hoodie Blanket, and the adorable Panda Hoodie Blanket.
Our Kids Hoodie Blankets are crafted with two layers of premium materials. The outer layer is made from 200GSM flannel, while the inner layer features a cozy 230GSM sherpa fabric. This unique dual-layer design creates a thicker and warmer hoodie blanket compared to conventional options, ensuring optimal comfort and warmth.
Designed with convenience in mind, our Kids Hoodie Blankets come in a one-size-fits-all design, making them suitable for children of all ages and sizes. 
Looking for the perfect gift? Our Kids Hoodie Blankets are the ideal choice! Whether it's a birthday, holiday, or any special occasion, surprise your little ones with the gift of warmth and comfort wrapped in a cute and stylish package.
Upgrade your child's loungewear game with our delightful Kids Hoodie Blankets. They provide the perfect combination of coziness and fun, allowing your kids to transform into their favorite animal while staying warm and snug. Don't miss out on the opportunity to make your child's day with our amazing Kids Hoodie Blanket collection.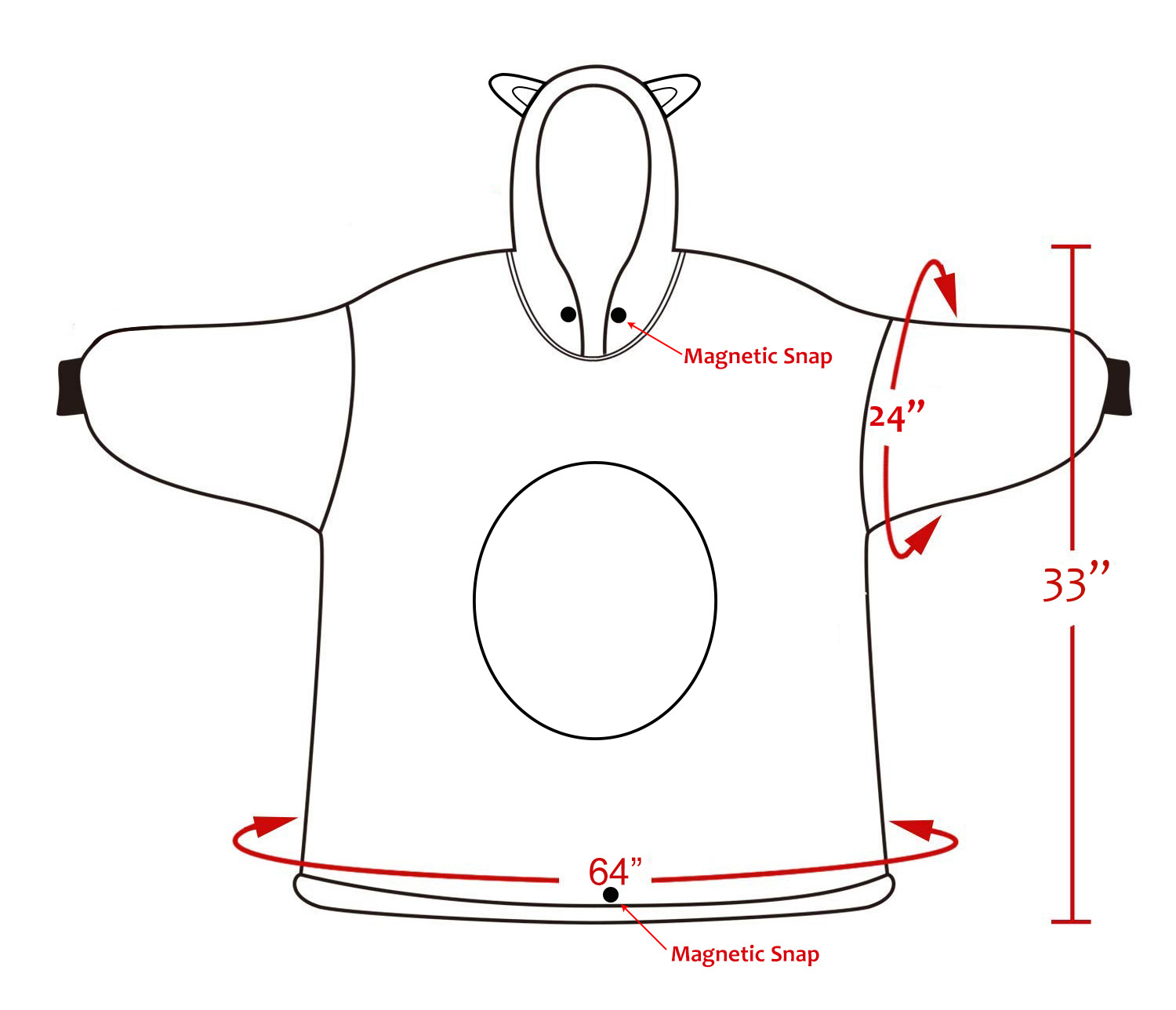 Blog posts
We all know someone who just cannot tolerate the chilled weather. They will, unfortunately, catch a cold simply because of the higher temperatures in AC or the bitter winter wind. Of course, it is not in your hands to change...

Read now

Do you know what the best thing about the hoodie blanket is? Well, it can keep you covered completely with a lot of irritating slipping and cold breezes. The hooded blanket is pretty much similar to an oversized sweatshirt with...

Read now

Have you started adding winter clothes to the wardrobe to get ready for the coolest days of the year? Then, you should not overlook a hoodie on your shopping list. This casual wear makes you feel highly comfortable. Available in...

Read now
Compare products
{"one"=>"Select 2 or 3 items to compare", "other"=>"{{ count }} of 3 items selected"}