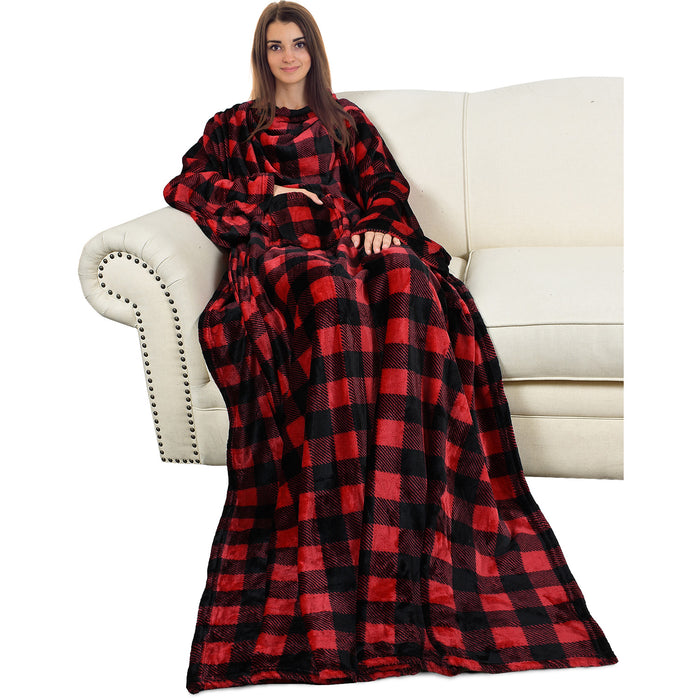 Plaid Fleece Wearable Blanket With Sleeve
Original price
$30.00
-
Original price
$30.00
Shipping Time

Shipped from USA. 0 - 1 handling days (fulfilled Monday - Friday)+3 - 5 transit days (fulfilled Monday - Saturday)
Shipping Cost

You will see the specific fee on the checkout page, before payment.
30 Day Refund/Return Policy

Items are entitled to be refunded or retuned if the buyer notifies the seller within 30 days of the date of purchase.If you need to get a exchange or return, send us an email at help@cataloniastore.com

For more info,pls click here to learn
365 Days Aftersale Sevice

We provide long-term services in line with our long-termist philosophy. As long as you need us, we are here. Please get in touch with us at help@cataloniastore.com. We appreciate your continued support of Catalonia, and we promise to return the favor.
Catalonia Blanket Care Instructions

Machine Wash Cold(86°F/30°C), gentle cycle.

Wash with similar colors.

Don't bleach. Don't tumble dry.

Don't Iron. Don't dry clean.

For more info,you can find all care instructions on the inner care tag of the product.
Imagine the enchanting alchemy that occurs when the timeless plaid pattern meets a luxuriously comfortable blanket. Catalonia Plaid Pattern Wearable Blanket With Sleeve is precisely this captivating fusion. Each square embodies the warmth of home, while every thread extends a cocoon of comfort. Whether you're basking in leisurely indoor moments or embracing outdoor adventures, this blanket will be your steadfast companion of warmth.
With its thoughtfully designed sleeves, this wearable blanket not only keeps you snug but also lets your hands move freely, whether you're immersed in your favorite TV series, browsing online, or engrossed in a captivating read. What's more, the blanket includes a convenient pocket, ensuring your essentials are always within reach.
Handcrafted from premium materials, this wearable blanket envelops you in luxurious softness. Sized at a generous 73" x 51", it's tailored to suit most adults, guaranteeing a comfortable experience whether you're enjoying TV time, game nights, or focusing on work at your desk. 
Embrace warmth and style effortlessly with our Plaid Pattern Wearable Blanket with Sleeve, and experience the perfect blend of comfort and fashion.
Search our catalog
Enter a keyword and quickly find exactly what you're searching for
Blog posts
As winter approaches, the search for a unique, cozy, and practical gift becomes a priority. Catalonia Wearable Hoodie Blankets have gained widespread popularity as an ideal choice for many gift-givers. This article delves into why these hooded blankets are beloved and offers guidance on selecting the most suitable Catalonia  Wearable Hoodie...

Read now

We all know someone who just cannot tolerate the chilled weather. They will, unfortunately, catch a cold simply because of the higher temperatures in AC or the bitter winter wind. Of course, it is not in your hands to change...

Read now

Do you know what the best thing about the hoodie blanket is? Well, it can keep you covered completely with a lot of irritating slipping and cold breezes. The hooded blanket is pretty much similar to an oversized sweatshirt with...

Read now
Compare products
{"one"=>"Select 2 or 3 items to compare", "other"=>"{{ count }} of 3 items selected"}